Our motto is "Helping your child find their inner genius."
We achieve this by tailoring our program to the needs, goals, and management style of your school. The program is an extension of the school that provides self-guided learning through daily activities, a healthy snack, continued character building and mentor guided homework time.
From creative and constructive arts to literacy and math, we plan to provide activities that enhance the child's many interests. Using a variety of learning styles, we have the ability to offer activities including those focused on S.T.E.A.M. development, problem and inquiry-based learning and real-world child-directed pursuits. We work alongside the teachers and the parents to provide an environment that will exceed expectations while never leaving the safety of school property.
Before and After School Care
Prodigy Childcare believes that the price you pay is reflective of the many things that we have to offer.
A child-centered curriculum that makes it fun for the kids to pick subjects that they want to learn about. While still having time to play and relax from a long day of learning.

An environment that helps kids to learn while playing in a fun-filled open place with lots of room and choices.

Convenient location on New Summit Charter Academy Campus to help give you the peace of mind that your children are in our care right after the bell rings.

Healthy snacks to help kids stay farther away from processed food.

Teachers that have a love of learning, with education and experience. You will see the same faces every day you walk in and know your kids are in great hands!

A schedule and routine to help keep the day moving and kids busy.
Meet Our Staff
Prodigy Childcare LLC was founded in 2017 by Colorado native, Amber Gibbs. After three years in college, Amber decided to take a break and go back into a field working with children–her one true calling. While working in this field she discovered that not many corporations balance the needs of the family and the needs of the school with the company's bottom line.  Amber wanted to provide a quality before and after school program that would work in conjunction with individual schools to meet the needs of parents, staff, and children. She is now married with two children of her own and managing two locations of her new business.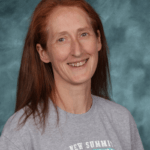 Ms. Claire our Site Director, has been in the United States for over 22 years and is originally from Harrogate, England. She has been working in childcare for over 25 years and has two children in college.  She also has some adorable fur babies named, Boomer and Bangers. Claire is the Prodigy Site Director and will be at New Summit Charter Academy mornings and afternoon full time.
Miss Sally has worked for New Summit Charter Academy's, before and after school Prodigy Childcare Program since 2019.  She is learning all kinds of new card games.  Before she worked at Prodigy, Miss Sally delivered for Fed-Ex for 16 years. She needed a break and wanted to do something fun. We are so excited she chose childcare at Prodigy!
FAQs
Contact
For all questions, comments, and concerns on before and after school care, please contact Amber Gibbs at: amber.prodigycc@gmail.com.
Site Phone Number:
719-429-2523
Prodigy Childcare is owned and operated by Amber Gibbs, who was born and raised here in the state of Colorado.  We take pride in hiring staff that have a love for children and educating first. Our senior staff has over 50 years of combined experience with each of us having multiple certifications needed for before and after school care.
Prodigy Childcare is a small company which can accommodate changes to any environment big or small. If needed we will provide additional staff to meet the changing needs of your families at your school. After meeting any of our staff you will notice immediately how much we love the children.